The Fake Santa is a minor antagonist in Elf.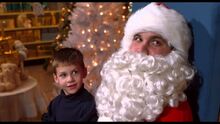 He is played by Artie Lange in the film and is voiced by Jay Leno in Elf: Buddy's Musical Christmas.
The Fake Santa appeared when he greeted the children, especially Buddy. When Buddy came close to the Fake Santa, Buddy didn't think he was the real Santa Claus. Buddy told the Fake Santa that he stunk, he sat on a throne of lies and he smells like beef and cheese. When Buddy tore his fake Santa beard off, the kids screamed in horror and then the Fake Santa got into a big fight with Buddy and started wrecking the decorations, shocking Wanda. Wanda managed to pin the Fake Santa down and was presumably taken away, never to be seen again.
Buddy was arrested for fighting with the Fake Santa, banned from the store and sentenced to 24 hours in jail. Luckily, Walter bails him out.