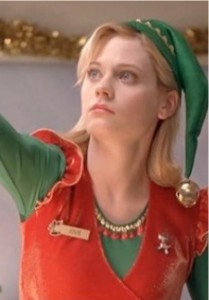 Jovie is the tritagonist and primary heroine of Elf.
Appearances
Elf
Character Street
25 Years and Still Counting
Character Street Stays Up Late
Mike Saves Christmas
123 Count With Me (cameo finale song for Count With Me)
Character Street: Mike-Palooza! (music video for 1st song Just Happy to Be Me) (music video location Sugar Land Town Square)
Kid's Favorite Songs 2
Happy Holidays
As a hooooooman
Jovie first appears in the toy shop, Gimbel's, working there as an elf in the "North Pole", when Buddy sees Jovie decorating a tree he was instantly attracted to her. She acted snobby towards him, so Buddy told her that she needed some Christmas carols. She tells him that Buddy she doesn't sing in public. He precedes to then show her how it's the same thing whether you sing by yourself or you sing in public by singing a short song in the store. Wanda tells him how there is no singing in the North Pole. Jovie says that it's time for her to go home, as the store closes in ten minutes. They shake hands and tell each other their names.
The next morning, Jovie takes a shower in the women's locker room because her building's water was shut off. She sings the woman's part of "Baby it's Cold Outside". Buddy was up all night decorating the store and hears her singing. He goes into the locker room and sings the man's part along with her. Jovie hears him and screams at him to get out. Later that day, Buddy tells her that he thought she had the most beautiful singing voice in the whole wide world.
When Buddy comes back to the store with his brother Michael, he gets up the courage to ask her out on a date. They plan for next Thursday. After he picks her up they have an wonderful evening of tasting the World's Best Cup of Coffee, looking at big Christmas trees in store windows and ice skating at Rockefeller Center, where they kiss for the first time.
On Christmas Eve, Jovie faces her fear of singing in public. She climbs on top of a sled and starts singing "Santa Claus is Coming to Town" to a crowd of people, they all join in, raising the Christmas Spirit meter, allowing Santa's sleigh to fly, and saving Christmas. Jovie and Buddy got married, as they spend many Christmases together and have a baby girl who they name Susie. Jovie visits the North Pole with Buddy, meeting Papa Elf.
23 (Elf Film)
34 (Elf: Buddy's Musical Christmas)
Zooey was 23-years-old when she was in Elf.
Kate was 34 when she did the voice in Elf: Buddy's Musical Christmas.
This is completely useless cuz I just wrote this for fun cuz im boreeedddd
How r u todayyyyyyy, I hope ur doing well
Dont listen to them, I think ur amazing