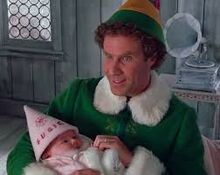 Susie is the daughter of Buddy and Jovie, the granddaughter of Walter Hobbs and Susan Wells, the step granddaughter of Emily Hobbs, the adopted paternal granddaughter of Papa Elf and the half-niece of Michael Hobbs.
Susie is named after Buddy's mom, Susan Wells.
In the animated remake Elf: Buddy's Musical Christmas, Susie was replaced by Baby Buddy.